Bury Grammar School
A very warm welcome to Bury Grammar School - a vibrant, high-performing school with a rich history and a warm, friendly community. Outstanding examination results, a focus on enabling each individual pupil to shine with an encouraging and supportive environment, exceptional teaching and an extraordinary range of enrichment activities are our hallmarks.

Bury Grammar School has a structure which, we believe, represents the best of all worlds.

Both single sex and coeducational

We have a coeducational Kindergarten and Infant School, single sex Junior and Senior Schools and a coeducational Sixth Form. This is a structure which allows pupils to develop into confident, happy learners in environments which are perfect for their age and conducive to a high quality education.

Our junior and senior pupils thrive in their single sex teaching groups, making spectacular progress at every level. Outside the classroom, all our extra-curricular activities are mixed. The best of both worlds, in our view.

Both big and small

There are in effect six small schools within one big School at BGS, which means we know every child well. At the same time, each child benefits from the fact that we have so many expert teachers on site, with many of them teaching in more than one area of the School.

Every pupil feels at home in their own area of school, but also has access to all our facilities on our 45 acre estate.

Both academic and enrichment

We are serious about having high academic standards, encouraging our pupils to aspire to top careers and university courses, and our curriculum is broad but also unapologetically academic. The three sciences, separate modern languages, the arts and creative subjects, the humanities, the social and political sciences, physical education - all these subjects are integral to the liberal education we offer.

At the same time, our extra-curricular activities are in many ways what makes Bury Grammar School the extraordinary school it is.

Both high results and low fees

The Telegraph recently evaluated all the UK's independent schools by analysing their exam results and fee levels. We are pleased that they identified BGS as a 'high results, low fees' school as we take our commitment to providing the highest quality education very seriously and are always mindful that our parents make sacrifices to send their children here.

Our commitment to quality and affordability further reinforces our absolute conviction that it is important to make every day at school count. Education only happens once and we want pupils to have superb experiences with us.

Both historic and modern

Bury Grammar School is 450 years old. We are immensely proud of our historic roots but we also firmly have our eyes on the future. We seek to offer a progressive, forward-thinking education for the world of tomorrow in which we expect our pupils to thrive.

Current vacancies at Bury Grammar School
Bury Grammar School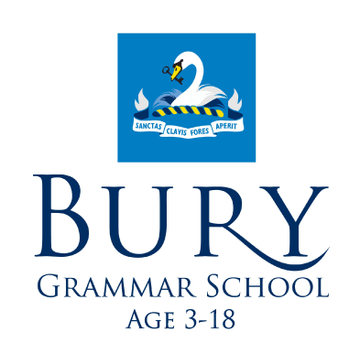 Bury Grammar School is seeking to appoint a motivated, experienced and qualified School Counsellor to work alongside our Pastoral and Health Teams and provide specialist counselling support to pupils.